.
.

Day started cold and windy but once we had protection in the woods, the weather was tolerable. The first obstacle we encountered was a small hill, ha ha, that had a well established root system at the top. As it turns out, dirt can freeze and when it becomes slightly warmed by tire tread spinning and grabbing, it turns to a consistency of slime. This is where the majority of the days winching took place with a total of 4 vehicles requiring a gentle nudge. The Freelander took off like it knew what it was doing and got up without any assistance whatsoever!

Then down the hill on the other side and into the gully and over another hill that makes the car in front of you appear as if it is disappearing into the gates of hell (not to mention testing your breakover angle). One small patch of mud proved how important traction and ground clearance is with two of the Discos with factory size street tires becoming stuck because of the pesky differential and the slick tread. Russ Hogan was on hand in his Unimog to lend a hand with a quick tug. After this experience, we drove back towards what is recently turning into the lunch area. To get there, we drove across the rock bed of whatever river that is and to a nice waterfall area.


.
"I was impressed at the technical level of the trails at Disney. My overall thought is that we need to work to keep the privilege to use these trails. Even though I was not in my Rover (4Runner today), I was able to watch them in action. In fact, the ability to compare performance between models, modifications, and terrain was invaluable."

Thanks,
Michael Baker
.

After lunch, we took off to the spillways and conquered the rock ledges. This is the at will portion of the day and we just meandered around and tinkered with approach and departure angles. I discovered how best to teter on two wheels by not descending a ledge correctly and ended up with the front left and rear right tires not touching. Some help from my friends (at this point anyone that will sit on your bumper is your friend) and I was able to drive down the ledge.

The next spillway is more extreme in my opinion and required more spotting and attentiveness to the environment. As proof, this is the location of the second off camber situation I experienced and received the nickname by Mark of "Wheely". We drove across the minature 'Golden Crack.' This required complete spotting and was somewhat tense. The four vehicles that attempted came out unscathed and was wonderful practice for those of us going to Moab as the trails will likely be similiar.

As far as I know, all vehicles came out with any carnage. Everyone has bragging rights on their vehicles as they all did wonderful. In other works it was another great day for wheeling in Disney. What a great hobby with a great club.





Trail Report - Paul Davis, Tulsa, OK
Photography - Michael Baker & Alan Bates


.
.
Yep, that's a Freelander!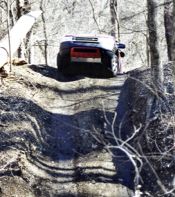 Up, up and over!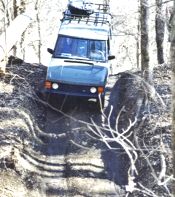 Can you say breakover angle!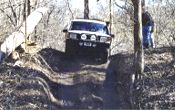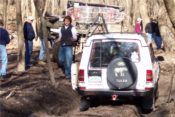 Unimog to the rescue!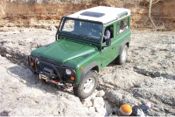 The Photo doesn't do it justice!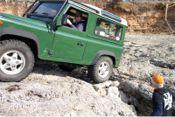 Good spotting from Chris!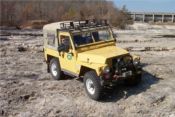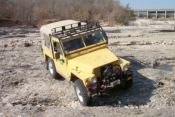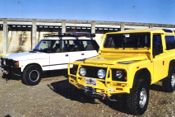 .
.