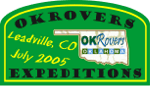 Leadville, Colorado


Expedition 2005 – July, 2005



Trip Report
by
Paul Davis



Day one for the trip to Leadville began at 4:45 A.M. This was the designated travel day and Jen and I were to meet Randy, Alan, Brian, David W., and anyone else who showed up at 5:45 at the QT.

We fueled up and took off by 6:15. Stopped frequently for gas and snacks for the first part of the day. Ran into some rain in Kansas so we stopped to help David get his soft top attached. The drive through Kansas was all we hoped it would be. Packed with excitement and action packed scenery. The rain delayed our time some and so we hit Colorado Springs at about 5:30 and had to drive through the city in rain and fog. We couldn't even see Pikes Peak! Stopped for gas on the outskirts of Colorado Springs and happened into some 12 packs of Fat Tire. We arrived into Leadville at dusk and set up quick camp and ran into town for some dinner. Unfortunately the only dinner we could find was at a bar so we enjoyed pitchers of Fat Tire and Frito Pie. Camp was interesting that night.

Day two started about 6:00 A.M. It is cold in Colorado at night, 37 degrees to be exact. Once everyone was up we began meeting some really interesting people. Some were locals so they were full of information and others had traveled from far away. Either way it was interesting to swap stories and share our excitement with other Land Rover Owners. The group decided to tackle Mosquito Pass after breakfast. Danny Booth, Randy Black, David Williams, Alan Bates, Brian Turner, and Paul and Jennifer Davis headed for the highest mountain pass in North America, 13,185 feet to be exact. It was a terrific day enjoying the terrific scenery. One little hiccough with my tie rod end bolt but otherwise an uneventful day. We made it back to town in time for rally check in at 4:00 P.M. This was just a taste for some of the really cool trucks we would see over the next 3 days.

Day three began at 8:00 A.M. at the "We Love Leadville" parking lot. The attendance was 149 trucks and the variety was amazing. A total of 12 yellow D-90's were present! There was everything from the oldest 88' to completely new LR3's. This day Iron Mike Mesa and Half Moon Pass were on the agenda for most of the OKRovers. It was listed as a moderate trail and was a nice easy drive with a few obstacles towards the end of the trail that made things interesting. We ate lunch at an elevation of about 12,800 feet. The wild flowers were spectacular throughout the hillsides. After lunch we made our way down and towards town for the cocktail party at the National Mining Museum.


Day four took us to the town of Beuna Vista for Chinaman's Gulch. The trail was challenging but fun from the first moment. Several tight squeezes made the rock outcrops and uneven terrain a blast to conquer. Rock Garden was fun, and even my Disco did what many thought was impossible. Next major obstacle is well documented at www.salmons-leap.com. This is when we became familiar with the expression of Jimmy of "3rd and boot it." Some carnage here so after some quick repair we were onward for more fun challenges. Coming down the mountain was, in my opinion, more technical than the climb. After a long descent, we convoyed back to Leadville for vendor night.

Day 5- Holy Cross, WOW! We thought Chinaman was technical. We had a series of challenges with the pivotal point of the day being a washing machine sized boulder to climb with very limited clearance and a pucker factor that was, well high. After some winching and several close calls we headed onward and found ourselves in Holy Cross City. Holy Cross City is a ghost town with only two structures remaining. Again, the wild flowers are amazing. Yousef and Jimmy headed on to tackle Cleveland Rock while others finished lunch. Some light snow and eventual heavy rain made the task of descending tricky. One very tipsy place leading to a small ledge over a tree root and wet rock made one obstacle a bear. Thanks to the rain, the washing machine size boulder was nerve racking on our descent. The obstacle required several helpers and careful spotting in order to prevent, or reduce, body damage. A long day was brought to an end once everyone had accomplished the remaining few miles of descent. After everyone aired up and reorganized we headed to town for the banquet for raffle night. The night was brought to an end at the campfire with lots of stories, a raging fire, and two or three cold drinks.

Day six was somewhat remorseful. After the campsites were broken down we went to our final breakfast in Leadville and a few stayed in the area and fished or did some whitewater rafting and others headed on the long journey to get home.

What a great time and a tremendous experience.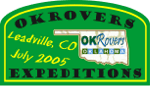 CLICK HERE FOR MORE PICS
AND VIDEO CLIPS OF THE RALLY


.