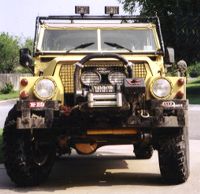 E-mail this club member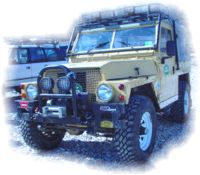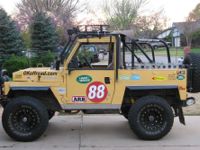 .

1973 SIII Airportable RHD
(Lightweight) 24 Volt
The story goes that this Land Rover spent most of its early life on the island of Cyprus in the Mediterranean. Hence the wonderful condition, unlike many of the same age in England.


Lightweight Mods
24 volt ex-HumVee 6,000lb Warn winch. Interior roll cage. Replaced stock leaf springs and original shocks with Rocky Mountain parabolic springs, Old Man Emu long-travel shocks, longer military spring shackles, and rear bump stop extensions. The difference is awesome!
- See RTI results in '4x4 Play' section.


Replaced Good Year Hi Milers on original rims with Dunlop Mud Rovers 33" X 12.50" on MRT 15" off-road wheels - what a difference to the ride, not to mention ground clearance and traction!.


Mounted custom twin gas tank skid plates, and steering guard. Diff guards front and rear. Front pinion guard. Custom hidden rock sliders mounted behind checker plate sills.


Detroit locker in the rear with 4.75 gears, and XD heat-treated 24 spline axle shaft upgrade. TrueTrac up front.


Installed front hi-back bucket seats and rear bench seat with seat belts for the kids.


Rear-mounted spare tire carrier..


Summer bikini top - great with the door tops removed!


Replaced twin batteries with Optima red tops. Installed OKoffroad 24-12 volt DC-DC converter for CB radio and off-road lights.


Replaced original mirrors with Defender mirrors.


Old Man Emu Steering stabiliser.


Superwinch Freewheeling Hubs on rear axles (for flat towing), and Milemarker "Selectro" FWHs on the front.


K&N air filter with Defender airbox, with freeflow Turbo muffler and wider than stock tail pipe.


Custom smoke-stack snorkel with Turbo pre-cleaner.


Viair 24 volt on-board air compressor & air tank.


"Roverdrive" and aluminum T-case cover from Wise Owl.
.
---
Also spent one week in July '02 driving the high passes of southern Colorado. - See our '4x4 Play' section.
---
Everytime I drive the Lightweight is a "best driving experience."
.