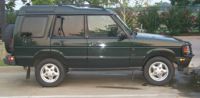 .

1997 Series I Discovery

Description:
Forest Green, Brush guard front bumper and rear tail lights, BFG All-Terrain 235 85's and OME HD's shocks and springs. Terrain Master Rock Sliders, and QT diff guards. Since Moab, front and rear endcaps and sway bars removed; HD brake lines


Wish List:
Sway bar quick-disconnects, eventually, a winch. Rear locker, front bumper (David O'Brien is creating), skid plates, relocate the steering stabilizer, etc.



Crazy LR Story:
Chandler park has placed a curse on me. I have been three times and stuck twice. Last week required a tow truck.



Goes offroad:
Yes, local outings to Disney, OK, and Arkansas. Survived Moab with only minor dent to front bumper. I also have my eye on Clayton, OK.
.