.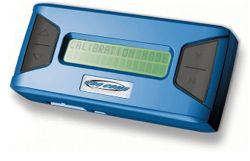 (click image for large view)

Compact and easy to use.


Read and Clear DTCs.


Raise RPM "Rev" Limiter.


Raise Top-Speed Limiter.


Power Tuning for Regular & Premium Fuel.


Changes Option Settings any time.


Return to Stock Tuning any time.

.
AccuPro Calibration Tool - Jeep
---
Give your Jeep an instant shot of improved engine output and efficiency.

For lifted vehicles with larger wheel and tire combinations and/or gear ratio changes. The AccuPro calibration tool plugs directly into your vehicle's diagnostic port for easy installation. It can read and clear vehicle DTC's (Diagnostic Trouble Codes). As well as calibrate speedometer and odometer for tire size and differential gear changes.
.
---
.

U.S. SHIPMENTS (CONTINENTAL U.S. ONLY)

AccuPro Calibration Tool
Shipping
.
$219.95
$12.00 *
.
.

---
* Includes sales tax in Oklahoma only
---
.
.