.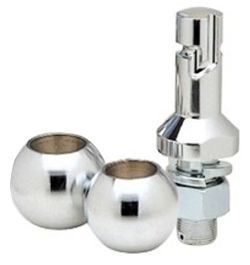 (click image for large view)

Easily swap out 17/8" & 2" tow balls.


Beefy 1" shank.


National Standard compliant.


High-grade steel construction.


nickel-chrome finish.


6,000 lbs. rating.


TW: 600 lbs.




Notes: DO Not exceed vehicle-mounted hitch towing capacities.
.
---
Give your towing system added flexibility with the dual tow-ball kit. Change instantly between 17/8" & 2", trailer balls. No tools or pins needed. The special J-groove design lets you twist the ball on and off easily.

"I wanted ro be able to use my dual-purpose ball mount with both my trailers. This kit allows me to change out the ball depending on which trailer I use."
.
---
.

U.S. SHIPMENTS (CONTINENTAL U.S. ONLY)

Dual Tow-Ball Kit
Shipping
.
$49.95
$12.00 *
.

---

* Includes sales tax for shipments within Oklahoma

---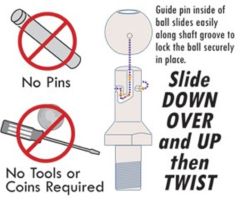 (click image for large view)
.
.