.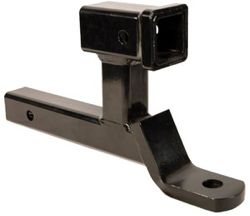 (click images for large view)


Black powdercoated finish.


Fits 2" by 2" receiver tubes.


Length: 121/4".


111/2" pin hole to ball hole centers.


Drop 2".


GTW: 6,000 lbs.


TW: 600 lbs.

Notes: Use only a trailer ball with a 1" diameter shank on this ball mount. With a Socket and Torque Wrench, tighten nut to 240 ft. lbs. Torque. DO NOT use the upper mounted receiver tube for towing. WARNING: DO Not exceed vehicle-mounted hitch towing capacities.
.
---
Maximize your cargo and towing capacity for every adventure! This dual-purpose Ball Mount lets you tow your trailer while providing you with a free receiver tube for a cargo carrier, or bike rack. With the dual-purpose Ball Mount you don't have to sacrifice extra cargo for the sake of towing.

"I wanted a way to mount a small rear winch for my trailer to haul my UTV, but have it be removable and also mounted closer to the vehicle to access my quick-connect plug mounted on the rear bumper. This is perfect!"
.
---
.

U.S. SHIPMENTS (CONTINENTAL U.S. ONLY)

Dual-Purpose Ball Mount
Shipping
.
$69.95
$15.00 *
.

---

* Includes sales tax for shipments within Oklahoma

---
.
.