.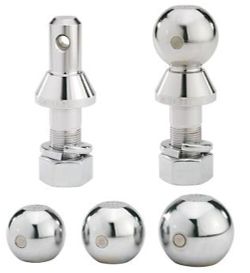 (click image for large view)

17/8", 2" & 25/16" tow balls.


Beefy 1" shank.


National Standard compliant.


High-grade steel construction.


Safety hole with cotter pin.


slide pin with 21,000 lbs shear strength.


nickel-chrome finish.


10,000 lbs. rating.


Handy storage rack supplied.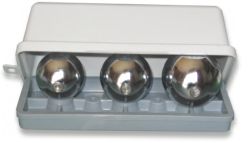 (click image for large view)


Notes: DO Not exceed vehicle-mounted hitch towing capacities.
.
---
Give your towing system added flexibility with the triple tow-ball kit. Change instantly between three interchangeable balls; 17/8", 2" and 25/16". No tools or pins needed. The ball is removed easily by pushing the retaining pin to unlock the ball from the shank.

"I wanted ro be able to use my dual-purpose ball mount with both my trailers. This kit allows me to change out the ball depending on which trailer I use."
.
---
.

U.S. SHIPMENTS (CONTINENTAL U.S. ONLY)

Triple Tow-Ball Kit
Shipping
.
$79.95
$12.00 *
.

---

* Includes sales tax for shipments within Oklahoma

---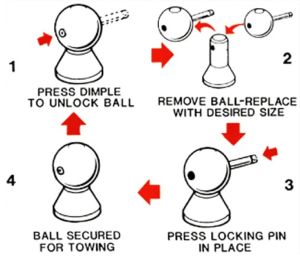 (click image for large view)
.
.