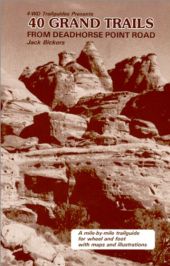 .
.

From Deadhorse Point Road

There are about 70 roads eminating from the Deadhorse Point Road. This book features ALL 40 EASTERN roads branching from it (The Labyrinth Rims features those roads branching westward). 50 photographs and several segment map-pages. It describes all trails branching from the main trails.
Arths Rim, Gemini, Crips Hole, Widow Maker, Day Point, Major Point, Bull Point, Long Canyon, Sevenmile and South Fork, Secret Canyon, Little Canyon, Bull Canyon, many arches and all features are described in detail. - 80 pages.
.
.