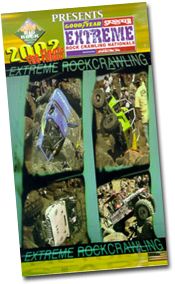 .

Goodyear Extreme Rock Crawling Nationals

Johnson Valley, California is the site for the 2002 RCAA Finals. After accelerating to the top in what has become a dream season for Team Shaffer, this team from Northern California has only 2 things keeping them from closing the best season in RCAA history, the boulder strewn cours in Southern California and a well seasoned veteran team from South Carolina.

Location: Johnson Valley, CA
Running Time: 150 Minutes
.