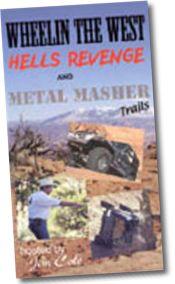 .

If you have not been to the red rock country of Moab, Utah. This video will give you a look at 2 of the more popular trails of this area.

Both of these trails are rated 3+ on the Red Rock 4 Wheelers scale of 1-5. The coverage of the hells revenge trail takes you on a journey through some of the most spectacular country you will ever see. With its windswept sandstone domes and spires you ride along as this well seasoned off-road group travels through the land of the Anasazi. In the 2nd half of the program we travel the Metal Masher Trail and you can only imagine how this trail got it's title. With obstacles such as Mirror Gulch and Widow Maker you are sure to enjoy this run.

Location: Moab, Utah
Running Time: 45 Minutes
.