.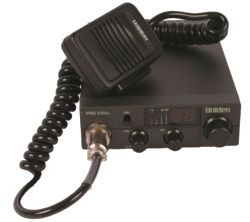 (click image for large view)

7 watts audio output.


40-channel LED display.


S/RF 4-segment LED meter.


Built-in automatic noise limiter.


Transmission LED indicator.


Volume and squelch control.


Includes mounting hardware.

Note: For truck installation a full quarter wave whip antenna should be used for maximum efficiency.
.
40-Channel 2-Way CB Radio
---
The PRO-510XL 40 Channel 2-Way CB Radio from Uniden is without question one of the most popular compact Citizen Band radios on the market. This unit features a superheterodyne circuit with phase-locked loop techniques to assure precise frequency control. This radio is certified by the FCC for use on any of the 40 authorized am frequencies.

Dimensions: 41/2" W x 63/4" D x 13/8" H.
Unit Weight: 1 lb 9 oz.
Plug-in dynamic microphone included.
16 ohms, 3 watts round internal speaker.
External speaker jack included.
Standard antenna connector.
.
---
.

U.S. SHIPMENTS (CONTINENTAL U.S. ONLY)

PRO-510 XL CB Radio
Shipping
.
$59.95
$8.00 *
.
.

---
* Includes sales tax in Oklahoma only
---
.
.