.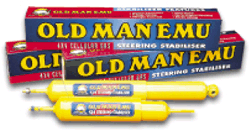 (click images for large view)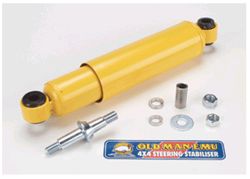 Designed to reduce the effect of wheel vibration and improve the feel, handling, and control of the vehicle. Old Man Emu's steering stabilizers will also reduce the aggressive rotation of the steering wheel over rough roads without affecting steering wheel return.


(click image for large view)
.
Old Man Emu HD Steering Stabilizer
---
The Old Man Emu steering stabilizer is an essential upgrade for any vehicle that sees off-road action. Take the bone-jarring vibration out of your steering!

Old Man Emu steering stabilizers mount directly to the OEM location, making it the easiest unit to install, and eliminating the need for extra hardware.

Whether you drive a Jeep, Toyota, Nissan, Land Rover, Suzuki or Mitsubishi, the Old Man Emu (OME) steering stabilizer is a worthwhile upgrade for your truck.


---

U.S. SHIPMENTS (CONTINENTAL U.S. ONLY)

Old Man Emu HD Steering Stabilizer
Shipping
.
$84.95
$15.00 *
.
.

---

* Shipping to Business Address in the Continental U.S. (lower 48).
$5.00 supplement on shipping to residential address.
Shipping rate includes sales tax in Oklahoma only.
.

---

.
.