.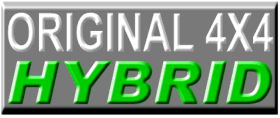 (click image for large view)

Dimensions - 8" x 3"


---
.

Original 4x4 HYBRID Decal
Shipping
.
$3.95
$3.55
.

---
.

Customer Feedback


"I wish I'd had this sticker on my Jeep recently when we went visiting a national Historic Park in D.C. - My brother-in-law parked up front in the "hybrid-only" lot in his Prius. We found a spot about a mile away. Still, the walk did us good I guess."


Frank Campbell
Richmond, VA
.
.
---
Dictionary Definition: Anything derived from heterogeneous sources, or composed of elements of different or incongruous kinds. Something of mixed origin or composition. Hybrids often display hybrid vigor.

All too often the word hybrid is associated with a gas and electric car, but back in the day a hybrid was a 4x4 with components taken from any other vehicle. So...if you've got a Ford 9" axle under your non-Ford 4x4, or Dana 60s where Dana 35s used to be, or Rockwells on anything other than what they were originally on, or if you did a full floater Corporate 14-bolt swap on your K5, or if you've got JK wheels on your TJ, Yota springs on your Samurai, or a Chevy small-block in your FJ40, etc. etc... then you're entitled to sport a "HYBRID" bumper sticker.

Our U.S. made decals are coated to protect them from nasty UV rays.
.
---
.

U.S. SHIPMENTS (CONTINENTAL U.S. ONLY)

Original 4x4 HYBRID Decal
Shipping
.
$3.95
$1.65 *
.
.

---
* includes sales tax in Oklahoma
---
.
.