.


PolyGuard Kinetic Rope


Now with our exclusive abrasion resistant 'PolyGuard' coating, the OKOR kinetic recovery rope is probably the most technically advanced recovery tool in the off-road world.


Kinetic Recovery Ropes


A heavy-duty tool used in the recovery of stuck vehicles in snow, mud, or sand. It is made of Nylon Double Braid enabling High Strength & High stretch.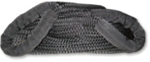 Kinetic Recovery MIL


For recovery above & beyond your standard off-road recovery. Our military-grade kinetic Recovery Ropes are used by our Armed Forces.
.