.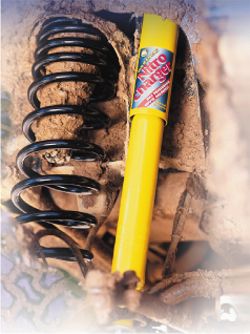 (click images for large view)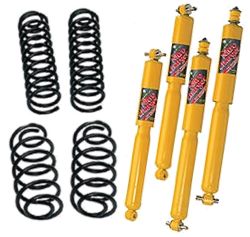 .
Old Man Emu 4X4 Suspension
---
Whether you drive a Jeep, Toyota, Nissan, Land Rover, Suzuki or Mitsubishi, the Old Man Emu (OME) suspension kit (springs, shocks & steering damper) is an amazing upgrade for your truck. Old Man Emu is not just a lift kit, but an entire suspension upgrade, with superior shock valving, and spring rating.
Old Man Emu suspension systems include carefully matched spring and shock combinations engineered to improve vehicle ride quality, handling and control under various loads. Special attention is given to improving suspension travel without adversely affecting driveline and steering geometry.

Note: The OME steering damper (stabiliser) is an essential component of your suspension upgrade. All kits are supplied with a free OME damper if applicable.


(click image for large view)


OME Coil Springs are formed on precision mandrels and manufactured to the highest standards. A scragging process is performed before and after the coils are shot peened to reduce stress and prevent sagging. Unless otherwise listed below, OME springs give approximately a 2"-2.5" lift above stock ride height.
.
.