.


Master Links


Our heavy-duty master links have a multitude of uses, including joining straps or ropes together or attaching to a ground anchor.
.

Rubber Clamps


The quick fist American-made clamp holds shovels and other equipment securely. Available also in large format.
.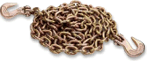 Recovery Chain


Every 4WD owner should carry a recovery chain for heavy conditions.
.