.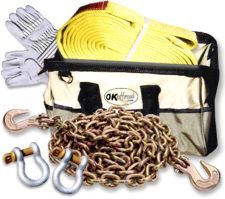 (click image for large view)
Mega Recovery Chain Kit contains:

4" x 30' double-ply recovery strap.


3/8" x 20' recovery chain with hooks.


1" D-Ring shackles (2).


Suede cowhide work gloves,


with protective cuffs.


18" wide-mouth Gear Bag, heavy-duty


nylon zipper, outer pockets, and


hard fiber floor.

Our recovery chain is made from Boron treated steel which provides a high strength to weight ratio. It is superior for use in towing, recovery and safety chains.
.
---
As well as for large vehicle recovery, the Mega Recovery Chain Kit's chain is used to drag fallen trees and logs off 4WD trails. It is plated to prevent rust, and comes with chain hooks (2). The chain is particularly useful for securing a winch anchor point in rocky areas where a nylon tree strap is not suitable.

Every 4WD owner should carry a recovery chain in heavy conditions. They will last a lifetime and have absolutely unlimited uses.
.
---
.

U.S. SHIPMENTS (CONTINENTAL U.S. ONLY)

Mega Recovery Chain Kit
Shipping
.
$314.95
$35.00 *
.
.

---

* Includes sales tax for shipments within Oklahoma

---

---

Compare Prices: The Mega Recovery Chain Kit has a retail value of over $350.00, which is a saving of over $50.

.
.