.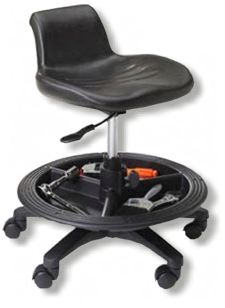 (click image for large view)

Easy-to-reach storage tray.


15" seat width.


13" seat depth.


16" - 21" seat height.


5 spoke caster set-up.


Durable polyurethane seat.
.
---
The Work Stool is ergonomically designed for a wide range of other industrial environments. Self skin black polyurethane seating provides excellent cleanability and durability.

This deluxe work stool alleviates strain on your back, hips and legs and allows mobility without stressful bending. Pneumatic lift adjusts the seat height with finger tip ease. This stool has a easy-to-reach tool tray.
.
---
.

U.S. SHIPMENTS (CONTINENTAL U.S. ONLY)

Deluxe Work Stool
Shipping
.
$169.95
$25.00 *
.
.

---
* Includes sales tax in Oklahoma
---
.
.