.


U.S. Flag Decals


These decals are U.S. made. 5" X 3" stickers. No description or explanation required. Sold in pairs for both sides of your rig.
.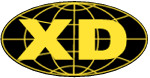 Xtreme Duty Decal


Badging from the rare 'Xtreme Duty' Land Rover Discovery built by the Special Vehicles unit.
.


Union Jack Decal


Produced in the United Kingdom, our Union Jack decal is the ultimate statement for Land Rover owners.
.