.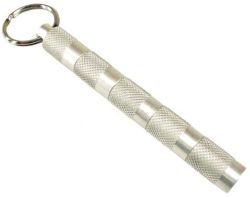 (click image for large view)


"The Teraflex Air Deflator is as dirt simple as using a rock for a hammer. There are four little deflator caps that screw into a keychain-type holder so you've always got 'em with you. Simply unscrew the deflator from the keychain pendant and screw it onto the valve stem. The deflators aren't adjustable; they just let the air out. By the time you've walked around the vehicle and screwed a deflator to each tire, the one you started with is pretty much ready to go. You can also put a pressure gauge on the deflators' ends so you don't need to remove them to check pressure. When your tires are at the pressure you want, remove the deflators and reassemble them on your keychain." JP Magazine.
.
---
LET'S YOU DOWN EASY!
These air deflators are a must have for any trail vehicle. Airing down your tires increases traction and handling when off-road, but can take forever when you are in a hurry. The Teraflex air deflators make the job of airing down easier so you can get out on the trail quicker. A key chain ring keeps the 4 deflators close at hand. Constructed of zinc-plated steel for durability.

Note: Don't automatically shut off; if you get distracted or hung up you can let all the air out of your tires.

Zinc-plated steel construction for durability.
Four deflator caps screw onto a keychain holder.
Simple to use; convenient to carry.
Extremely affordable.
.
---
.

U.S. SHIPMENTS (CONTINENTAL U.S. ONLY)

Teraflex Tire Deflators
Shipping
.
$14.95
$10.00
.

---
| | |
| --- | --- |
| * Includes sales tax in Oklahoma only | . |
---
.
.