.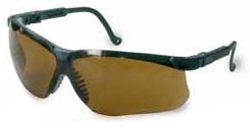 Dual 9-base 'wrap-around' lens.


Uncompromised peripheral vision.


Soft flexible fingers conform to nasal profile.


Soft elastomer brow guard.


Adjustable Temple.


Frame color: Black.


Lens tint: Espresso.


Meets Mil V0 ballistic test for impact.


Made in the USA.


(click images for large view)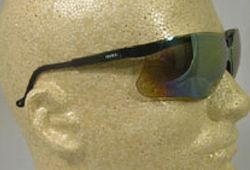 .
"Genesis" Eyewear from Uvex
---
From the makers of the best ski goggles comes a superb everyday-wear tinted eyewear. As well as a host of features, these tinted shades are ultra cool in design too. And at an amazingly affordable price!

Uvex Genesis eyewear is technologically engineered to deliver unsurpassed comfort, protection and style with a variety of outstanding features. Uvex Genesis has cushioned "brow bumpers" that absorb and diffuse impact and nasal "soft fingers" that conform to nose bridge. Dual 9-base wrap-around lens provides superior coverage and protection for the entire eye socket area with a unique ventilation channel which allows moisture to escape for enhanced performance.
.
---
.

U.S. SHIPMENTS (CONTINENTAL U.S. ONLY)

Uvex "Genesis" Eyewear
Shipping
.
$19.95
$7.50 *
.

---

* Includes sales tax for shipments within Oklahoma

---
.
.