.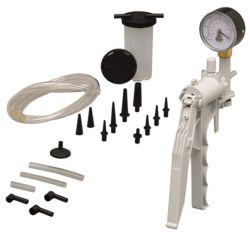 (click image for large view)

Easy-to-use.


One-person brake bleeding.


With 2" diameter vacuum gauge.


4.5 oz. fluid reservoir bottle,


Fluid transfer & storage lids.


Bleed screw adapters.


Tapered adapters & manifold plugs.


Pump Displacement: 16 cc per stroke.


Detailed User Manual.

With today's engine vacuum requirements, a vacuum pump has become an integral part of every serious vehicle owner's toolbox.
.
Brake Bleeding Vacuum Pump Kit
---
This is an amazingly easy-to-use hand vacuum/pressure pump brake bleeding kit. It turns a two-person job into a simple one-person task. it's fast and efficient and can be used on most hydraulic systems, including your hydraulic clutch.

Functions:
Test vacuum related systems in the engine including ignition systems, carburetors, automatic transmissions, computer systems, fuel systems, air conditioning units, cruise control units, emmisions control systems and more.
.
---
.

U.S. SHIPMENTS (CONTINENTAL U.S. ONLY)

Brake Bleeding Vacuum Pump Kit
Shipping
.
$59.95
$10.00
.

---
* Includes sales tax in Oklahoma only
---
.
.