Recovery Gear at OKoffroad.com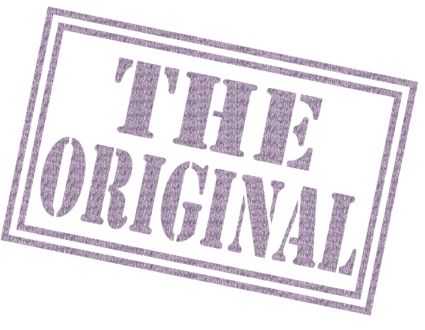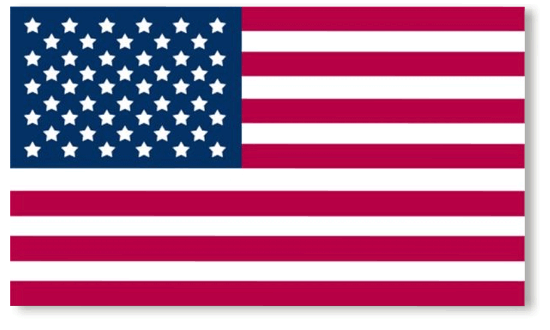 Definition: kinetic energy - The energy possessed by a system or object as a result of its motion. The kinetic energy of objects with mass is dependent upon the velocity and mass of the object, and is equal to the product of half the mass times the square of the speed.
Mega Kinetic Recovery Rope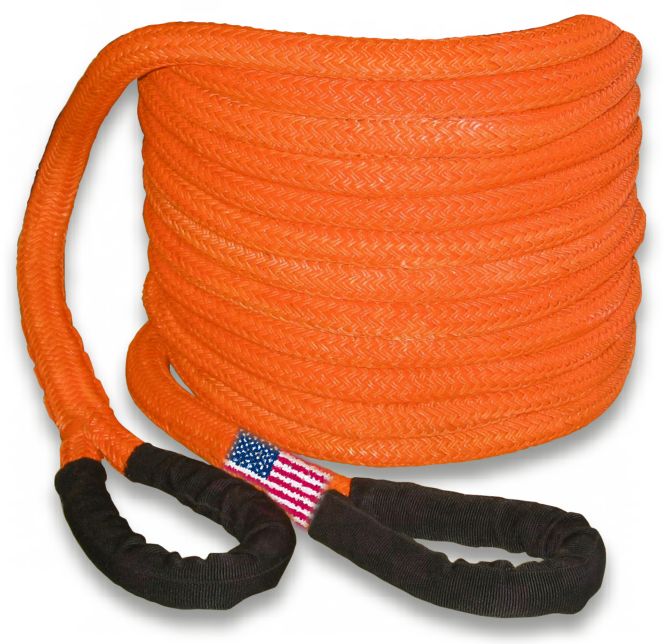 (click image for large view)



The Mega Kinetic Recovery Rope is designed for recovery above and beyond your standard off-road recovery. The OKoffroad kinetic recovery rope is probably the most technically advanced recovery tool in the off-road world. Using the principles of kinetic energy for maximum effect, this kinetic recovery rope will stretch and safely pull a large vehicle to safety.

Now available in our Abrasion-resistant 'PolyGuard' coating.

For extreme-duty tugging and snatching of stuck vehicles in mud, snow, or sand. Our Mega ropes are used by U.S. Fire Departments and our Armed Forces, and are engineered for mega-duty applications and are of the highest U.S. quality.



1-1/4" & 1-1/2" diameter x 30'.


52,300 lb. & 64,300 lb. MBS.


Rated for full-size 4x4s & Trucks.


Chafe guarded loops on each end.


High Strength & High stretch.


Made from Nylon Double Braid.


Professionally spliced.


Lock-stitched splicing.


Made in the U.S.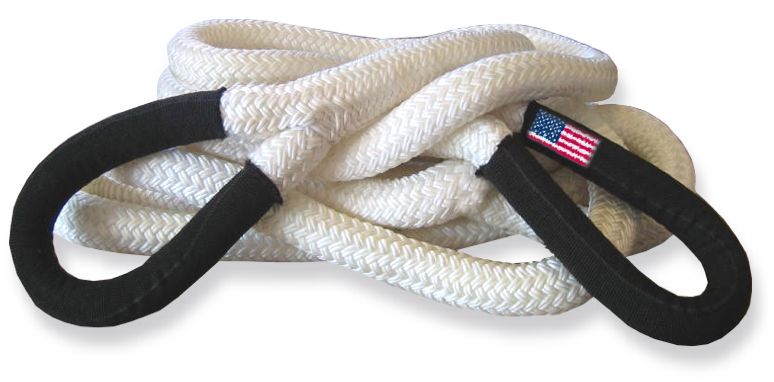 (click image for large view)
U.S. SHIPMENTS - LOWER 48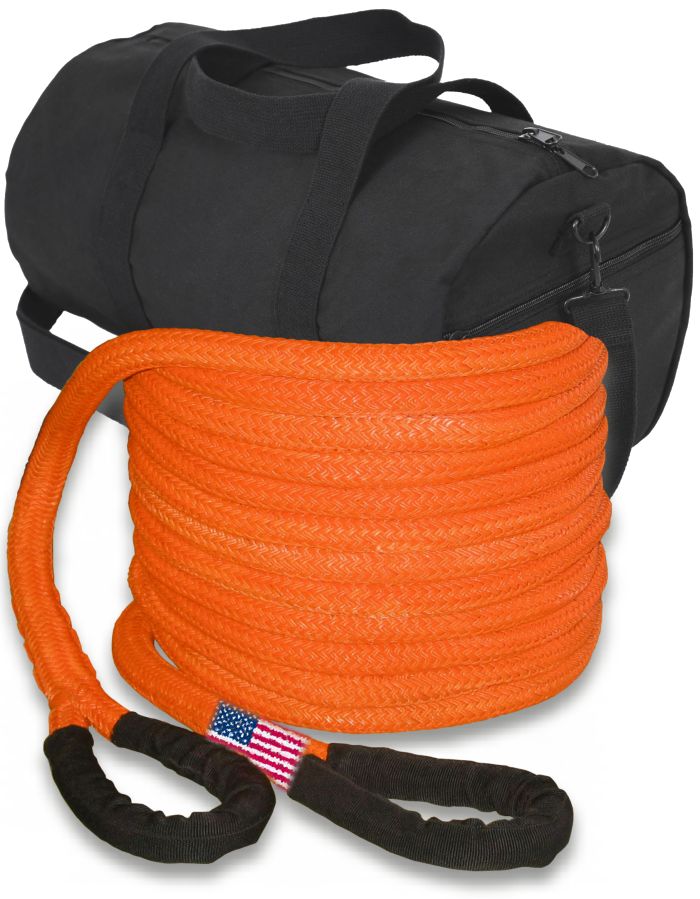 (click image for large view)



Protect your Mega Kinetic Recovery Rope by storing it in our handy kit bag. Don't just throw that Mega rope in the back! Store it carefully, and it will be there for you when you need it.

It's a great kit bag for other recovery gear too.



24" wide-mouth Gear Bag.


Heavy-duty nylon zipper.


Hard fiber floor.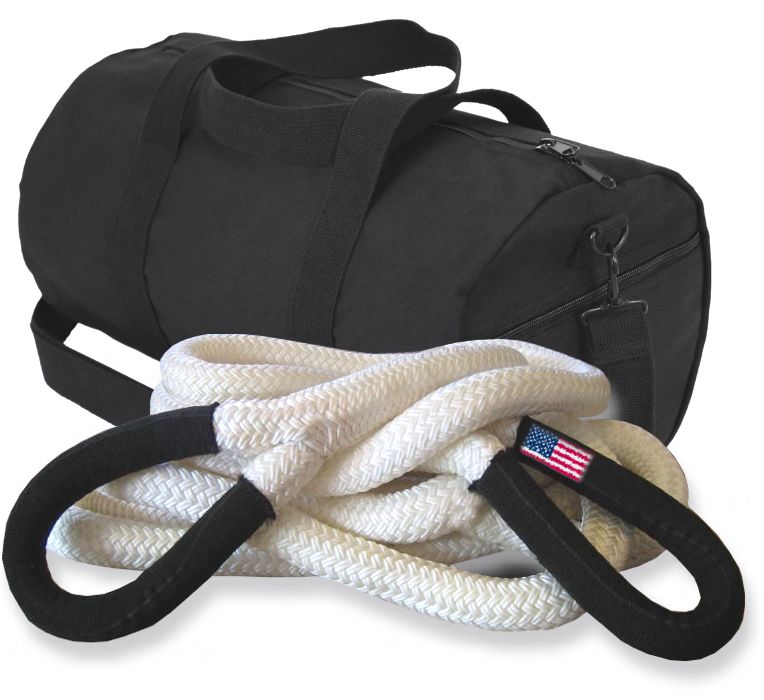 (click image for large view)
---
---
AVAILABLE IN BLACK TOO!
>>> Military Kinetic Ropes <<<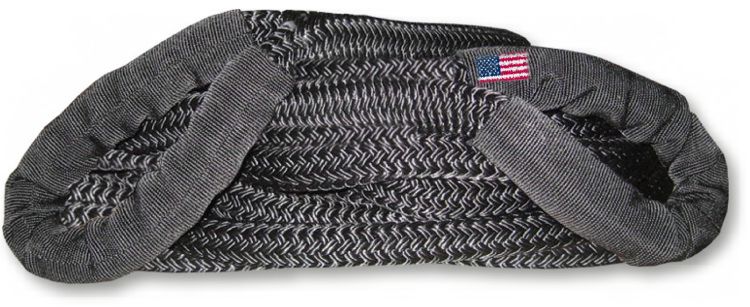 Customer Service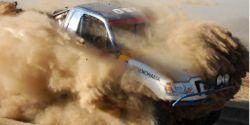 (click images for large view)




"I was introduced to the Mega Snatch Ropes I ordered by Ronn Bailey (Team Dakar USA) a few weeks ago when I towed his broken pre-runner out of the desert and then again a few hours later when he rescued me after I ran out of gas. These things are great and I'll never be without them. Here are a couple photos; one from the Baja 1000, and the other from the Dos Mares, a race run in southern Baja out of La Paz."

Thanks for the help,

Rob Kittleson

Mango Racing



OKoffroad original American-made Kinetic Recovery Ropes. OKoffroad's superior recovery products including our kinetic ropes are professionally assembled in the United States to exacting standards. Our products are used by government and military entities including our Armed Forces, as well as international Search & Rescue organizations.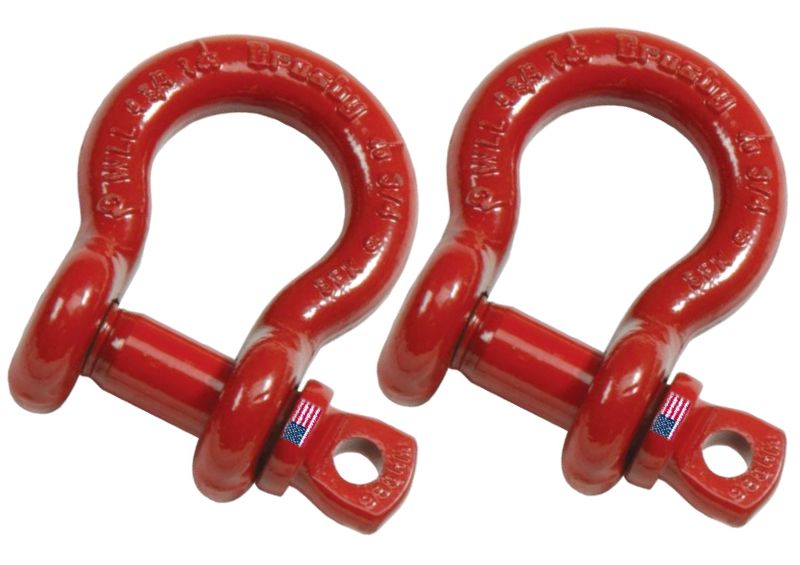 Mega D-Ring Shackles
Our Mega D-Ring Shackles are for large vehicle recovery.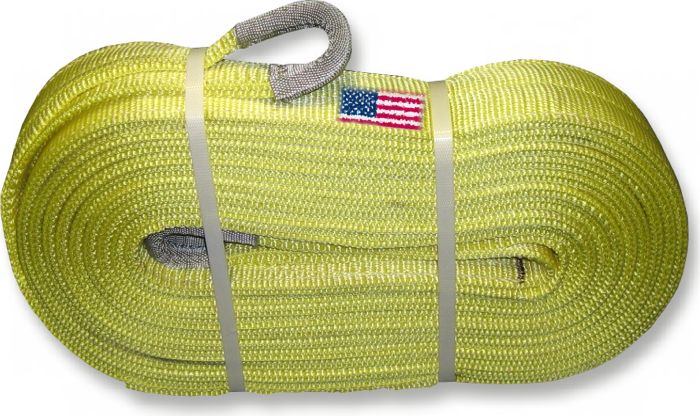 Mega Recovery Straps


For recovery above & beyond your standard off-road recovery. Our Mega straps are used by fire departments & the armed forces.





Re-Sellers Welcome


We are exclusive distributors for many of our listed products. We offer volume discounts, or drop-ship set-ups to retailers of 4x4 accessories and recovery gear.
Disclaimer. Please read: The effectiveness of this equipment is directly related to the manner in which it is installed, used (for off-road use only), and/or maintained. Proper installation, use and maintenance is solely the responsibility of the installer/user, and will not be assumed by OKoffroad.com.



---
---