.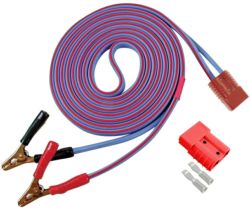 (click image for large view)

For use with all 4x4 electric winches.


175 amp rating.


#2 gauge cable, 20 ft. length.


Extreme temp range -55°C to -105°C.


resistant to oil, gas, sun, salt & chemicals.


Heavy-duty polycarbonate plugs.


HD battery clips.


Made in USA.

Our QC Booster Assembly consists of:
- Quick-connect plug to crimp to winch cable.
- 20ft. cable with battery clips and quick-connect plug.

Always ensure that a quality receiver hitch that is rated for your vehicle is used to accept a self-recovery winch cradle.
.
Winch QC Booster Assembly
---
If you have a winch mounted on a winch cradle enabling it to be used on several vehicles, you will need our Quick-Connect Booster Assembly.

Instead of hard-wiring the winch to the battery, use the assembly with battery clips to quickly hook-up the winch on the go for easy removal and quick-connect functionality. The quick-connect booster assembly allows you to completely remove your winch from your vehicle for daily driving, and to use it with any vehicle that has a quality receiver hitch.

Our Quick-Connect Booster Assembly is professionally assembled and shipped ready for (ab)use.
---
U.S. SHIPMENTS (CONTINENTAL U.S. ONLY)
Winch QC Booster Assembly
Shipping
.
$259.95
$19.00 *
.
---
* Includes sales tax in Oklahoma
---
.