.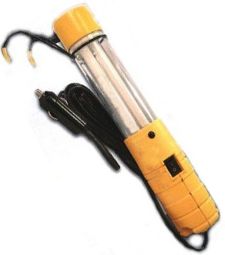 (click image for large view)


The Fluorescent Adventure Light with 20 ft. Cord is protected by a tough, impact resistant casing. The light includes a 10,000 hour rated bulb and a double hook stand! The 12 AMP rated light also contains a grounded receptacle.
.
---
Our offroad adventure light features a 13 Watt 6500 Kelvin Fluorescent light with high impact lens and high gloss reflector and hook. Power is supplied via a 12 volt cigarette lighter adapter for trail repairs.

High Impact Lens.
Flame Retardant Yellow Polypropylene
13 Watt 10,000 Hour.
20 foot cord with cigarette lighter plug.
Double hook stand.
.
---
.

U.S. SHIPMENTS (CONTINENTAL U.S. ONLY)

Offroad Adventure Light
Shipping
.
$34.95
$7.50 *
.

---
* Includes sales tax in Oklahoma
---
.
.