.
RANGE ROVER P38 WINCH BUMPER



CONCEPT:
Next on my list of modifications to my P38 Range Rover was a winch bumper. At this time, off-road equipment for the P38 is basically non-existent and my search for a winch bumper came up empty, with only the factory winch mount system available.

The factory winch mount used the existing bumper and is basically an add-on winch mount. I did not like the placement of the winch mount, it hangs low and sticks out, basically ruining the approach angle. The price was also on the high side. So I set about sketching and coming up with a design of my own. I decided to design a true winch bumper that would take the place of the existing bumper and at the same time maximize the P38ís approach angle.



FABRICATION:
Once I settled on a design, my buddies Matt and Edward set about fabricating it. The winch bumper is made out of 1/4" steel with a 5/16" aluminum skid plate integrated into the design. The bumper was made as narrow as possible as to maximize the approach angle. We mounted a Warn 9.5ti winch, which is a pretty narrow winch and helps with how narrow we could make the bumper. Once welded together, the winch bumper is one large piece, with it mounting to the existing frame horns and additional mounting points added to the lower frame cross-member. The bumper is now basically part of the P38ís frame and is incredibly strong.



DETAILS:
As you can see from the pics, the windshield washer fluid reservoir hangs down a little below the bumper. I am thinking about relocating it, but it sits up pretty high already so I will probably leave it as is. The AC dryer also hangs down, but it hugs up against the lower frame cross-member, I will have to look out for it, but I will probably devise some sort of skid to place below it for more protection. The approach angle has been dramatically increased along with having the ability to install a winch. We can custom build you one if anyone is interested.



UPGRADES:
In anticipation of adding the bumper and winch I replaced my front OME 761 springs and trim packers, as shown previously, with OME 764 driver side springs. This gave me an additional 1.5" in the front with the stock bumper. I immediately got front driveshaft vibrations, which was cured with a double cardon driveshaft from Great Basin Rovers. After adding the bumper and winch, I now have 3.75 inches of lift in the front and back.



PREVIOUS PROJECT:
P38 EAS System to Coil Suspension Coversion and OME Lift Install.

FUTURE PROJECT:
Next on the list is sliders.
.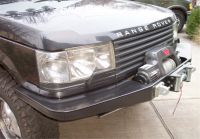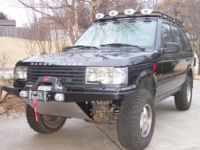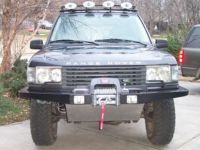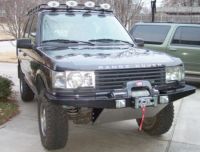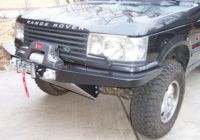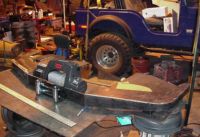 .